For many of the attractions we planned to visit, it was important to buy tickets online a long time before we arrived in Japan. Our first day was a visit to Ghibli museum, a homage to the Miyazaki film studios that's produced such wonders as Spirited Away and Howl's Moving Castle. I wasn't expecting anything too exciting (although I have always loved Porco Rosso and unashamedly pay homage to a setting from that in my own books), I thought that Maddy and her friends, being animation students at Queensland College of Art, would enjoy it more. I was very wrong.
The entrance to the museum
It was a journey through the film-making process, with genuine artwork, scenes, storyboards, and character designs from the movies. These treasures were laid out on tables to flip through and pinned to the walls as if they were nothing. The museum itself was a visit to the whimsical Ghibli world, with gardens and stained glass windows and narrow, winding staircases.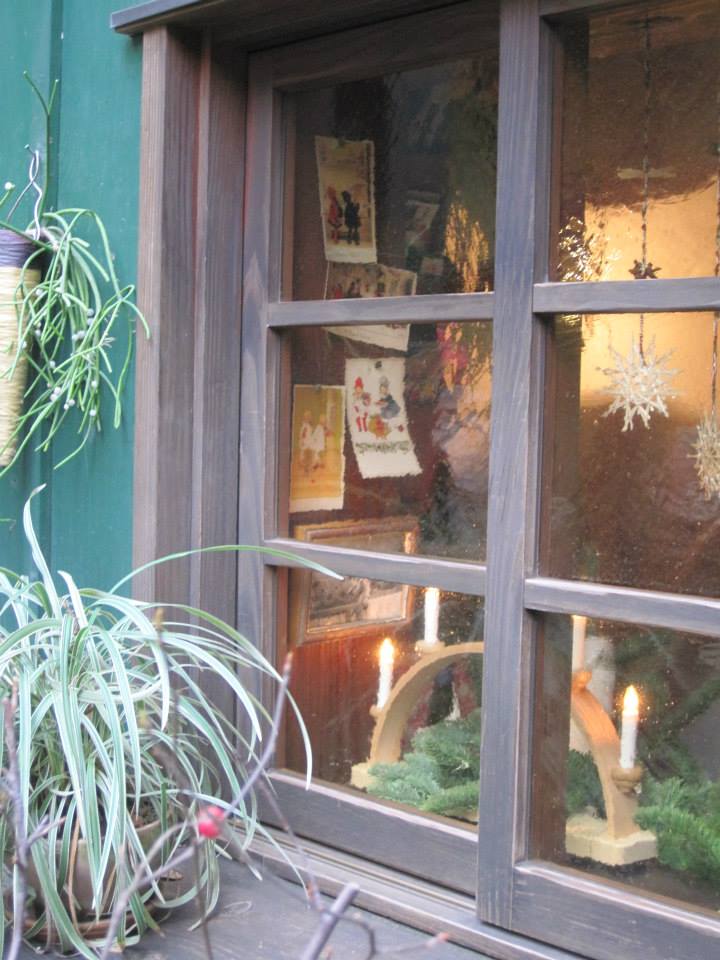 There wasn't any way to enter this room visible in the central courtyard, the scene through the window was just for show.
Photos aren't permitted inside the museum, only outdoors in the courtyard and on the roof so there's one photo opportunity spot on the roof with a robot gardener from Laputa and another outside with Totoro in the window.
This is one of those 'everybody who's been there has this photo' – photos.
We had lunch in cheaper part of the café that just had hot dogs and drinks and quickly discovered something about Japan – everything is delicious. The hotdogs were wonderful. The barley tea, on the other hand, apart from the fact that it was warm, was – interesting. Not awful, but it was about the only thing I tasted the entire trip that I won't be seeking out again. (Okay, I admit it, through the rest of the trip I referred to it as 'that awful barley tea'.)
Verdict: If you can make it, go there. Absolutely wonderful. Some of the displays are incredibly clever and well worth it.
We came out of the museum to a grey and cold day and walked across the road to make our way to the train station to head to Harajuku and shopping. (As I said, I just followed along the Maddy Itinerary and it worked well.) Across the road was a typical themed café – a bird one: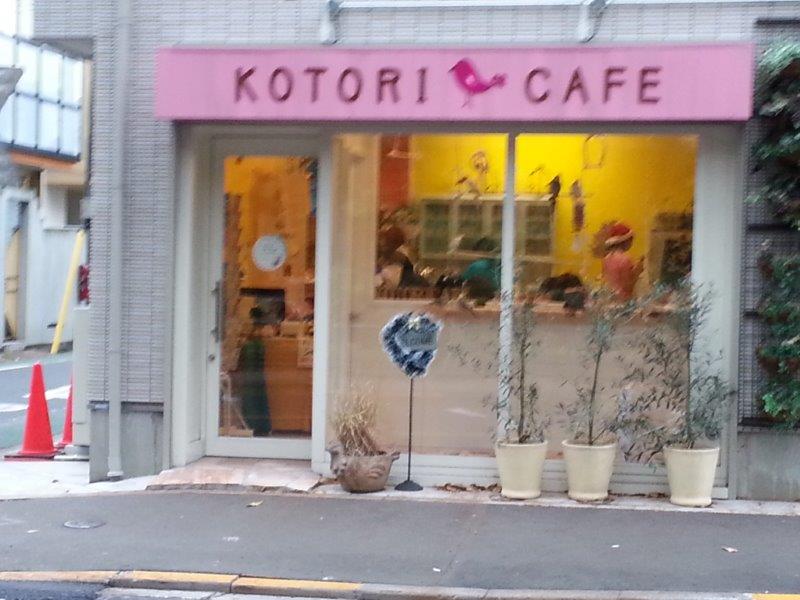 Kotori – 'Bird' – Cafe
We looked in the window and saw the little parrots on display and decided to give it a miss. It's one thing to have cat cafes where the cats are rescued and living a better life off the streets, and entirely another to have little living things in cages used as decoration. I'm sure the birds were well cared for but it wasn't for us. We headed to Harajuku to go shopping and find some lunch there instead.
I followed the girls through Harajuku until they found the street they were looking for – fashion and shoes. Maddy needed a coat and boots because a few days after we returned to Brisbane, she'd be heading off to Toronto on a university exchange and didn't have anything warm enough. We wandered up the street of tourist gimmick clothing (hats with ears, mittens with kitty faces, things like that), extremely cheap shoes and fashion, and for some reason a bunch of shops selling crepes. First time I've ever seen a 'hamburger crepe'. I may try it next time.
After a few hours of this we all had sore feet, so we headed back to the b Akasaka and the girls sorted through their purchases on our hotel room floor with many little cries of delight. We then went down to the Biztower and had an excellent Chinese meal of soup and stir-fry ho fan with seafood for about AUS$10 each. The girls headed back to their hostel in Asakusa, and Maddy and I returned to our hotel. It was at this point that I set myself a new shopping goal – find some gel innersoles for my old faithful boots. They'd originally had gel soles but these had obviously been squished and my feet were killing me already. Another new goal was to find an Australia/Japan adapter – the one that we brought had no socket for an earth pin, and all the devices did. Megafail!
3 responses to "Day One: Ghibli Museum"