When you see photos of the Tsukiji Fish Market on media, it's pictures of a big indoor area with dead tuna on the floor. So that's what I was expecting. I was also expecting to be completely underwhelmed because – and I'm kind of ashamed to admit this – I've never been able to 'get' sashimi. Raw fish is kind of icky to me. I've tried, I've tried for years. For more than twenty years I've eaten it with a smile on my face to be polite and then gone off to find something edible. So a visit to the fish market – yeah okay.
We met up with Maddy's animation student friends and her Japanese friend Haruna at the train station (I was more interested in visiting the big Buddhist temple near the station than the fish market, next time!) and headed to the fish market. They were all big sashimi eaters and discussing all the different cuts of tuna and tremendously excited. I just followed along.
Pro tip: don't go Saturday morning like we did unless you want an 'experience'.
It was Hong Kong-level packed. We had to push our way through hordes of people. We never went into the fish market itself; the surrounding roads were market stalls selling all sorts of delicious stuff. (Apparently the famous tuna auctions don't take place any more, and tourists aren't welcome while they're trying to get work done anyway.)
People were standing at high tables on the sidewalk slurping raw tuna on noodles and rice. There were stalls selling noodles and sashimi, stalls selling pickles, and stalls selling raw, fresh, and dried fish, shellfish and other seafood like oysters, crabs, and urchins. And it was completely packed with people out on their Saturday morning market visit. We went past a stall selling scallops steamed in their shells, seasoned and sold to eat on the spot and to my vast regret I didn't try them. Another next time!
A tiny corner stall had hand-made knives and I stopped to see.
'I don't know, I want to buy a knife but I'm not sure whether I'll get a cheaper price at a department store than here in the tourist area,' I said.
'One of these is probably cheaper than a department store,' Haruna said. She nodded at the grinning shopowner. 'And he makes them himself.'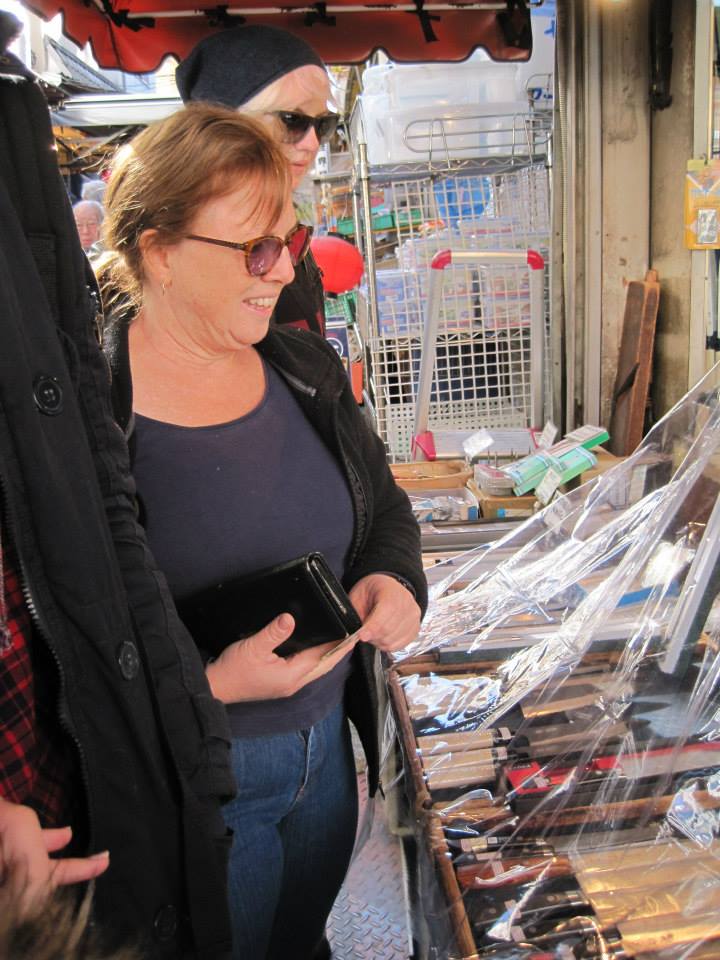 I have a sign on my back saying 'Rich White Tourist Please Rip Me Off'
Sold. I bought a chef's knife for about AUS$75 (much heavier than the usual chef's knife, this one can be a cleaver as well) and he sharpened it and gave it to me. Now, as well as my wok, I have another kitchen item that needs to be washed, dried, and oiled the minute I'm finished with it because it will rust. (Note: mild steel woks, the ones that will rust if left wet, are the best. They're stupid cheap at the Chinese grocery store and are usually rusty, sticky with old oil and pretty gross when you buy them. But as a kind Chinese grocer taught me, carbon steel doesn't stick as much. As he said: 'Stainless steel sticks like hell. Bloody worthless.' My mild steel wok is twelve years old and getting better with age: no teflon to flake off and as it's not stainless steel the food doesn't stick. Best ten dollars ever.)
We totally accidentally jumped the queue at a sashimi/rice/fish store ('She's letting us jump the queue because you're dumb tourists,' Haruna said. 'And all super cute,' I said, and the girls grinned.) Maddy had minced raw tuna on rice, a couple of the girls had sashimi, and me the non-raw-fish-eater had a really nice buttery grilled mackerel.
No, you haven't enjoyed the food until you've taken a photo.
We headed back to the train station and the girls were really excited: next stop Odaiba. We took the train over a big bridge on the harbour to Odaiba waterfront area that is new, full of open spaces, and with fantastic supermodern buldings. (I asked later if it was newly reclaimed land and the girls said yeah. Maybe I should have looked things up first.) We stopped outside the big mall because of the reason we were there: a huge gundam statue.
Guillermo Del Toro came here and worshiped it as part of the 'Pacific Rim' promotion. That was… strange.
There was a gundam café above the statue as well, with the usual themed nonsense – gundam chocolates and gundam drinks.
Gundam merchandissseeee
What was more interesting for me, was halfway up the steps an all-girl singing group put on a show. They were wonderful – singing without lipsynching and without any autotune – and at the same time dancing. A real high-energy show. They drew a crowd and there were obviously some huge fans in the crowd who danced along with them and knew every single move. Some of the fans joyfully dancing along were my age. The looks on their faces lit up the whole day.
We walked over to the science museum, which apparently is a must-see (similar to the Questacon in Canberra) but there was a Saturday queue a mile long to go in and we decided to skip it.
Maddy's friends needed to go back to their hostel to arrange some cash, so we headed to Asakusa. We walked out from the train station into a temple area; the Senso-ji Buddhist temple, dedicated to the bodhisattva Kannon (Chinese Kwan Yin) is there. I dragged everybody up to the temple to see and they followed along. The temple is surrounded by great fun markets that are like New Year markets but all the year round. There were touristy fake kimonos, stupid shoes, dumb T-shirts, but also things like the door curtains that we bought for about AUS$10 that are supercute. Closer to the temple there were stalls selling 'blessed' items such as rosary beads, medallions and bag tags. You can buy one from every temple you go to if you want – this is obviously a big earner for them. You can also go up to the main part of the temple, throw a coin into the donation box, and make a wish. (There's directions on how to do this on plaques as well.)
Saturday morning crowds at Asakusa Temple – not nearly as many people as in Hong Kong.
Haruna and Maddy had a go at the fortune sticks – you ask a question, then shake the box until a stick comes out. The number on the stick matches the number on drawers, and each drawer contains little printed fortunes on paper. Haruna didn't like her fortune, so she said thank you to Kannon for it and then gave it back by tying the paper to a rack set up next to the fortune sticks for that purpose.
We walked back through the markets and were stopped by the best street-comedy show ever. Naruto was fighting Frieza helped by Wolverine who used Pikachu. All the effects were made by the 'invisible' guy all in black who used yellow raffia and paper cutouts to indicate lightning, and physically picked up the performers and turned them around to 'slam' them onto the ground. I didn't understand a word of it but it was still hilarious. I checked later to find out if this was a Thing – and discovered that it was, that area is famous for having a theatre that specialises in this sort of wonderful stupidity. I didn't take photos or videos out of respect for the performers.
Next stop was another Thing – we found a cat café. There were eighteen cats living harmoniously in an area of about two hundred square feet (I'm reverting to the Hong Kong measure of apartment size here). It cost a thousand yen to visit for an hour, and it was more like a cat playroom than a café – the tea and coffee were urns to one side – and the cat toys were the real highlights. The cats were enormously fat, probably from eating lots of the treats you can buy as an extra. I won't judge, these cats are better off here than on the streets, and there are stray cats everywhere in Tokyo.
Most of the cats were asleep but a couple were awake and came to sit with us and have back massages. Some cats really like having their butts used as bongos (I wish there was a better way of describing it, but that's what it is) and one cat that set next to me just wanted butt slaps.
Moar Butt Bongos Plz Kthx
As someone with two cats waiting for me at home, this wasn't an ideal way to spend an hour but everybody else had a ball. A couple entered on a date and she was having much more fun that he did (there was a small shelf of manga, books and magazines for boyfriends and he made use of it.)
We left the cat café, passed Mr Danger Superhot Chilli Noodles and headed towards the Sky Tree.
MISTER DANGER SUPER HOT CHILLI NOODLES  (Complete with photo of Mr Danger himself at the bottom doing his best 300)
A bus going the other direction had 'SUKAI TSUREE' on it – and if you say it out loud (swallowing the u's) that's where it's going. We didn't go up to the top of the Sky Tree but enjoyed the market-like gardens around the base (stalls selling things like beer and pretzels and beer and more beer and extra beer – did I mention how prevalent and easy-to-obtain alcohol is?) and went inside to the multi-storey restaurant section and had some Yokohama specialty hotpots.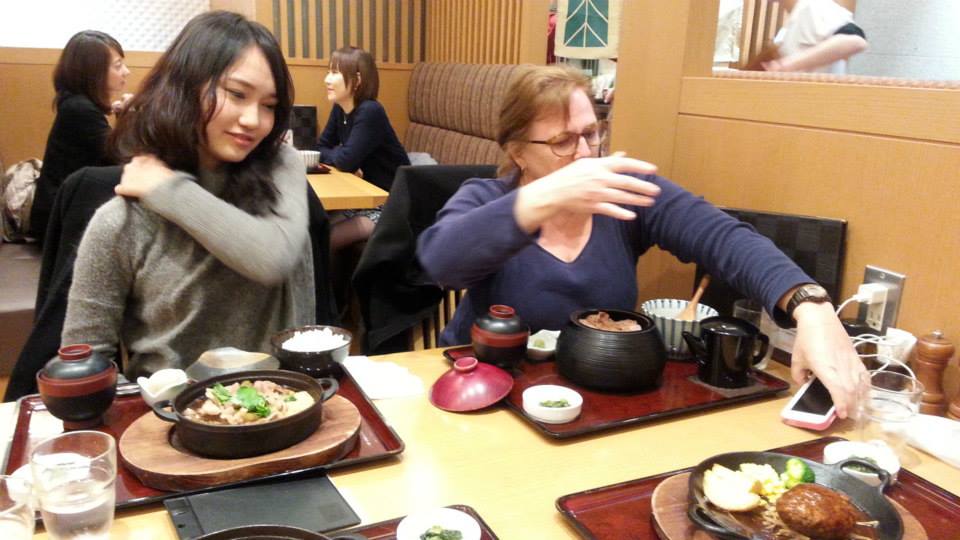 Photo courtesy of Maddy who COULD HAVE WARNED US geez.
It was wonderful. Haruna and Maddy decided to go back to Akasaka to go ice-skating on the rink outside the TBS tower next to the hotel, so I went up to check my email. Maddy showed up ten minutes later – the rink closed at the ungodly early hour of 9pm.
We watched Japanese television for a while – an actor was schooling his friends, who were also other actors, on Japanese history. He quizzed them on historical figures, and when they got them wrong he lectured them with slideshows. He was wonderful; educated and informative and both myself and one of his friends stopped at one point and said 'Why aren't you teaching Japanese history at a University?' His face just came alive when he talked about this topic.
After he'd schooled them he took them for kendo lessons – he'd done it as a child – and the camera gleefully focussed on the novices having their heads thumped with bokken. The actor who'd done it was also enormously tall (close on six and a half feet, and half my comments are going to be 'I know who that is and he's been in X and Y') so it was hilarious as he dinged the shorter actors on the head.
A common theme among Japanese television shows is Famous People Do Random (and sometimes quite ordinary) Stuff. Another show followed a star around for an hour as he took his dog to the dog park. Prime time.