The b hotel included breakfast in the room rate (and as a person who has to eat breakfast or suffer horribly for the rest of the day, this is a very good thing) and I learnt something very basic about Japanese food here. There was salad with croutons and two types of dressing, rice, pickles (but no natto, and I'd been wanting to try that), scrambled eggs, fried salmon pieces, little Japanese sausages, and miso soup. The extra-thick and sweet Asian bread was to one side with teeny tiny two-piece toaster ovens that tasted the bread perfectly evenly.
I did the usual thing – rocked up to the buffet and grabbed a plate – to discover that I was going about it all wrong. In Japan, everything's served on a tray, so everybody grabbed a tray and proceeded to collect a plate of eggs and fish, a bowl of miso, and a bowl of rice or salad. Maddy was in Happy Japanese Sausage Place – she buys these whenever she can at the Asian grocery.
We headed out to Akihabara to meet up with Maddy's friends. This is the pop culture part of town and has manga stores, anime figurines and anime and manga merchandise, as well as things like maid cafes and cosplay stores.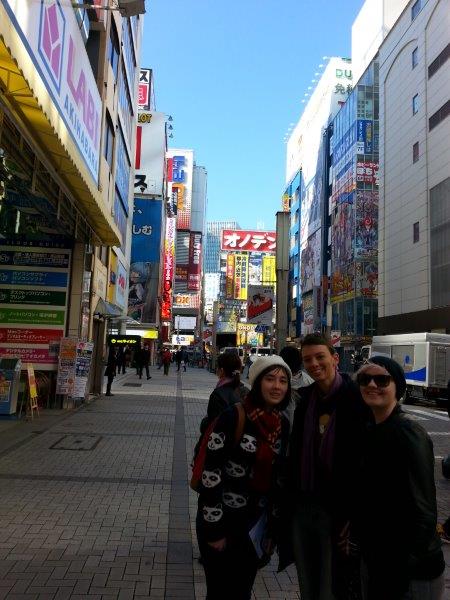 And I said I wouldn't use images of Maddy's friends. Too bad, girls, you stood in front of the camera in Akihabara!
They went straight to the manga and I wandered around, boggling. I'd seen stores like this in Hong Kong but they were usually small and in groups of four or five at the most. (I even use a small group of these stores in Causeway Bay in my novel 'White Tiger'.) This area had multi-storey malls containing hundreds of small stores, and a few huge multi-storey single stores selling figurines, merchandise, craft, books, videos and soundtracks. There was a whole store of just cosplay materials; the foam sheeting for making armour and basic school uniform-type stuff that could be adapted for cosplay, and more wigs than anyone knew what to do with.
The doujinshi shelves on the manga floor. So many.
Gatchaman (G-Force in English – anime from the 80's) figures. FIERY PHOENIX!… ahem.
I bought some Dragonball figurines – some iconic moments from the series. I haven't put them together yet because my office is still unlivable after the storm damage at the end of last year and I'm waiting to go back in with all my stuff. I also bought a miniature craft kit of a Japanese tea house. Maddy bought me a mini turtle garden kit. I cannot wait for my office to be sorted so I can put them together and on display.
Next stop was the retro games mall – Super Potato. The lowest floor was all Super Famicom/Super Nintendo. Original Mario cartridges! I bought a handheld Super Famicom emulator with its own screen and a copy of original Japanese Mario World and Rockman X for my son for Christmas (this child of the 90's pulled out Rockman on Christmas morning and was overjoyed. He finished the first level quickly because he remembered it so well and had played so much when he'd been a tiny tike. His face was SO worth it.)
Next floor up was vintage arcade games (pacman!) and  GameBoys.
Did I mention how terribly useful 100 yen coins are? All the vending machines use them – so in stores, people will wait patiently for you to give exact change so you can get some 100Y's back. SO useful.
Next floor up was the floor that Maddy wanted – Nintendo 64's and PS1's. Now, PS1 games are available on PS3/4 for download, and the PC emulators work really well for them, but Nintendo 64's are difficult to emulate and the controllers are 'special' – they have six buttons on the right instead of four, so games that use all six buttons are very hard to emulate.
Aus$20 Nintendo 64's. That Child-Of-The-90's Face.
Our Nintendo 64 that we bought in Hong Kong all that time ago was modded and had a CD drive that fitted on its base. The shop we bought it off had CD's that contained every single game for N64 ever. But the N64 died and I tossed it and the couple of genuine cartridges that we had for it – Pokemon Snap and Pokemon Stadium – a long time ago. Pro tip, parents, even if you toss the console, keep the cartridges, because your kids are going to do what my kids did to me and try to find the console again later.
The shop had N64's still in the original packaging, and they had working ones on the shelf for less than AUS$20 each. These are more than $200 each in Australia's ebay. The girls squealed with delight when they saw the N64's. I bought one for Maddy for Christmas with a copy of her second favourite game, Pokemon Stadium. Her favourite game, Pokemon Snap (possibly one of the greatest games ever) was not on the shelves, but she'll be able to find one on ebay, I'm sure. In fact one of her big goals for this trip was to find a copy of Pokemon Snap. I was voted Best Mother Ever.
Note that Japan runs on 100V rather than 240V mains power, so anything you buy in Japan has to have a step-down transformer if you don't want to explode it. (My 115V US transformer overheated the N64 when we brought it home. Not good.) Also Japan is NTSC and Australia is PAL (and there are three flavours of PAL on top of that) so the output from the N64 has to go through an NTSC <> PAL converter. (We have a multi-system VHS player from WayBack that can input NTSC and output PAL, because Hong Kong has electrical stuff from all over the world for sale there and converters are just normal.)
There was a small shop selling everything electrical and I found a Japanese to Australia socket adaptor for less than 500 yen – AUS$6 – so that was that little issue sorted and we could now plug in our tech at the hotel. The store brought back fond memories of similar 'everything electrical' stores back in Hong Kong. (Looking back I should have seen if they had a step-down transformer and the PAL/NTSC converters there too, they probably would.)
We wandered around looking for lunch and found a tiny ten-seater restaurant up a flight of narrow stairs. At the top was the ordering machine (with handy photos). You press the button, pay the money like a vending machine, get a ticket and hand it to the waitress. Sit and your rice is given as soon as it's ready. I had thinly sliced pork with soy sauce on a bed of rice with a raw egg dropped on top. You mix the whole thing around, and the egg makes it smooth and wonderful. One of the girls said the raw egg thing was freaky until she tasted it and then she didn't say much else about it, she was too busy eating.
Maddy had a Japanese cheeseburger –which is a sizzling hot plate with a hamburger patty covered in a cheese slice with rice and salad (no bun). I tried some and it was rich with beefy flavour (it must have had a large amount of delicious beef fat in it) and was tender and juicy without the hard toughness of the 100% lean beef burgers that we get in Australia. I don't know which was better, her burger or my egg rice.
We stopped in a drugstore and I bought my (yay!) gel insoles. Maddy found a bunch of Palty hair colour for Asian hair – she experiments with this all the time back home – and was astonished that it only cost less than AUS$5 when back home it's usually more than AUS$20.
From there we headed to the department stores of upmarket Shibuya.
As we exited the train station and were about to cross the road in the rain, I stopped and looked up. The buildings around us were covered in really huge video screens, and the road was six lanes wide and something like a complicated fiveways with department stores everywhere.
'Is this the iconic street crossing …' I said, staring at the huge LED screens on the sides of the buildings.
'Yes it is!' everybody said, then dragged me into a Loft. I didn't even get to take a photo of That Iconic Street Crossing, and it was raining anyway.
They have Loft stores in Hong Kong, but they're small and mostly stationery. This one was multi-storey and had everything from clothing to kitchenware. I reminded myself to buy a good kitchen knife later, I'd had a Japanese carbon steel one that I bought in Daimaru Hong Kong a long time ago but left it in Hong Kong when I returned to Australia.
As the day waned, we headed back to Akasaka exhausted and had a bento dinner of karaage and salad from one of the small restaurants in the BizTower. (I know, 'BizTower AGAIN?' But it was close. It was convenient. It was value for money, and it was very good. And we were tired.) Maddy returned to the room and skyped up a storm as she arranged to spend the next day with her Japanese friend Haruna, who'd come and stayed with us in Brisbane on exchange in 2009.
4 responses to "Day Two – Akihabara and Shibuya Shopping"