I've just returned from my very first trip to Japan. It was mostly research for me – to go inside and see if I could write authentically about Japan past and future. I feel confident writing about Australian and Hong Kong/Chinese cultures – I'm effectively a citizen of both places (although Hong Kong doesn't really have citizenship as such) – but Japan is different. I've been exposed to the culture because it leaks constantly into Hong Kong through products, promotion on TV, and merchandising, but it's a different situation altogether when you're inside the culture.
My daughter Maddy, although half-Chinese, has studied Japanese and through exchanges is much more familiar with how things work, so she was my tour guide. I went in blind, for the first time ever not being the one who does all the research. I used Maddy's advice together with that of the other young people who often take advantage of JetStar's two-for-one offer on Japan – thanks to my son William and his friends for tips on hotels – and we were off.
Things we did before we left included buying travel credit cards that are loadable with local currency using net banking and supposedly usable in all ATMs. Japan's Special, though, so props to Maddy for knowing where they would work. All the kids' friends had stayed in a chain of hotels called the 'b' that were good value, basic, clean, and provided breakfast and free wireless internet, so we arranged the accommodation through both wotif and qantas.
We took a 787 Dreamliner which is much like every other airplane – noisy, cramped, and uncomfortable. The only bonus was a USB port under the screen. The windows were electronically shaded which sounds much more interesting than it actually is (also it's all the window so you can't pull the shade down halfway to block the sun). Everything on JetStar costs money and I received the profound impression that the staff hated having to pull out the credit card charger for everything, and it would just be simpler for them to provide a meal for everybody and be done with it. The in-flight movies were "$8 please swipe your credit card". This wasn't an issue with techheads like us who took our own entertainment.
We arrived in Tokyo Narita airport in the evening and I had my first taste of the Japanese obsession with convenience on the express train to the city. The luggage compartment had special bike-type locks to secure the luggage. I didn't use them because they were complicated and the train was half-empty, but next time I'll probably take the time to work them out.
I kept expressing my annoyance that we really couldn't see much out the windows on the fifty-minute ride. It was dark, and only occasional neon signs were visible. We dragged our (enormous) luggage through Tokyo train station (Celebrating 100 Years!) to the metro, struggled through a couple of line changes to Akasaka metro station, and out into the cold.
To a fairy garden of lights and an ice-skating rink complete with skill games and giveaways.
I followed Maddy as she hurried around the front of the TBS building (Tokyo Broadcasting Service) and stopped at the bottom of a wall that led up to the next terraced level of the hillside, and four storey's worth of stairs were right in front of us. I looked at my huge suitcase, then at the stairs, and then turned to speak to her – but she'd already ducked into an alcove in the wall and pressed the button for the lift. It took us up to the street at the top of the wall, where the b Akasaka hotel was.
We went into the lobby which was small and deliciously redolent with the fragrance of coffee from the machine there, and checked in with the cordial and English-speaking staff. Up to our room – which was Asia-small but spotless. I checked the desk for the hotel information and was immediately struck by the instructions for the toilet and shower. I'd heard about this but this was the first time to really experience it! Yay!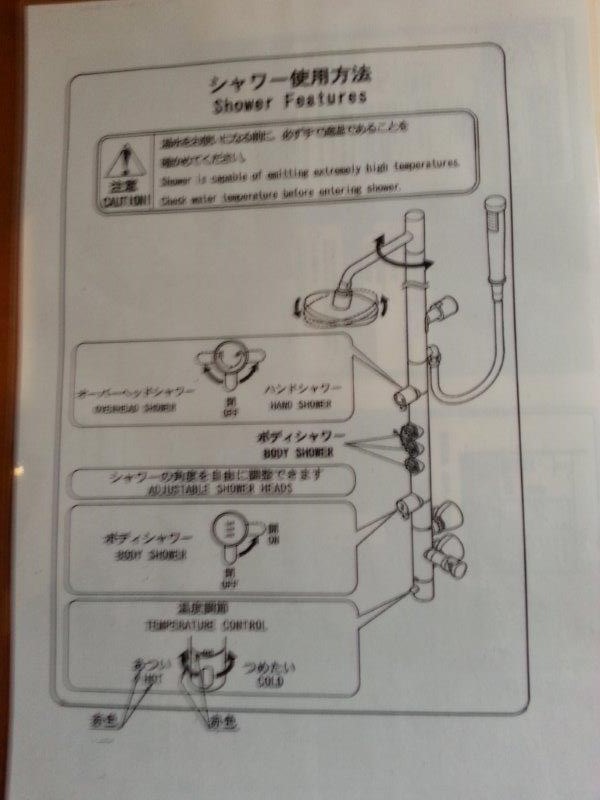 I have to admit my mind went blank when faced with the toilet the first time. It took me nearly three days to work out how to turn on the heating in the toilet seat. These sorts of toilet – with the built-in bidet – were everywhere, even to public toilets in tourist attractions and gardens. There are Australian companies selling them here because once you've used them – even for a short time – it's hard to go back to the basics.
Our first stop on our twelve-day trip to Japan was – Lawson's convenience store, to buy pre-booking tickets for Eorzea Cafe. Maddy had checked the availability of seats in this cafe and had discovered that it was hard to find free seats in it, and you had to book ahead. So we heroically went out of our hotel room into the dark winter evening to find a Lawson's and some dinner. Maddy told me that convenience store dinners were actually not too bad and I learned exactly how right she was.
With some help from the delightful store clerk in the Lawson's (in Japanese), Maddy navigated the complicated ticket-purchasing-in-Japanese procedure on the machine, found the only day that had free seats (12/12 for reasons we discovered later) and it was booked. We had to come back from Kyoto early on the 12th to make it to the cafe, but this was the only time we could do it. Ah, the things I do for bragging rights to you guys, Hikari.
We wandered back through the deserted streets around the TBS building – it was stupidly quiet there outside business hours – and I marvelled at Tokyo being so quiet. (Yes, I learned the truth about the area later.) We stopped at another convenience store – a FamilyMart, then wandered into the BizTower, the building on top of the Akasaka train station, and found our first example of a Japanese food court.
The direction board showing the range of restaurants in the first three floors of the BizTower.
There was a Spanish restaurant called 'Bikini' and two Chinese restaurants as well as a Korean place and many local-style restaurants. We wandered around the basement and there was a 7-11. Maddy had said that I could withdraw money from my travel card in a 7-11 and I sceptically gave it a go – and it not only did the transaction in English, it worked like a charm (minimum withdrawal of 10,000 yen or $100, up to 50,000 yen maximum!) We checked out the 7-11 pre-made meals and they were … amazing. Noodles with soup and meat and vegetables, curries and rice, sushi, desserts, fruit in tiny single servings – all this clicked together for me because that's what you see the young single men in anime walking home carrying. A plastic bag with a convenience store meal in it. Aha. And there were quite a few people in the shop buying the meals, topping them up with drinks from the huge coffee machines, and buying alcohol as well. (Alcohol is available EVERYWHERE, even from vending machines.) Dinner for both of us came out at about $15 Australian.
I bought some noodles and Maddy bought some sushi, and the store clerks heated the noodles up for me in a microwave. We headed back up to the lift and retired to our hotel room, exhausted. The meals from the 7-11 were fantastic. We had our tickets to the Eorzea Cafe and were ready to investigate Tokyo. Maddy got straight onto the wireless to log onto Skype and contact her friends who, like us, had taken advantage of the JetStar cheap flights to arrange to meet up.
4 responses to "Japan 2014 Arrival"