I was TRYING to watch my friend and fellow author Traci Harding talk about her wonderful creative works. Inari decided that Traci's insights were fascinating.
New Releases!
(Not really: they're new format or region releases of stuff I've already done)
Dawn of Empire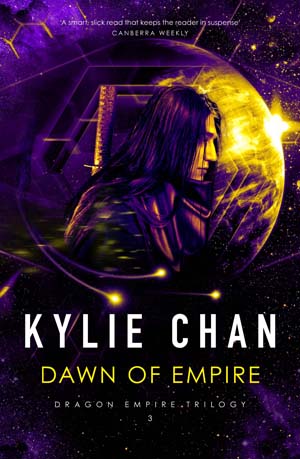 Dawn of Empire will be released in the US/Rest of the world on March 1. It'll be both print and digital, on all platforms, and is available for pre-order. I self-published the Dragon Empire series outside Australia, and it's been a remarkable learning experience, and thanks to all  my overseas fans for allowing me to make it happen.
Dragon Empire Audiobooks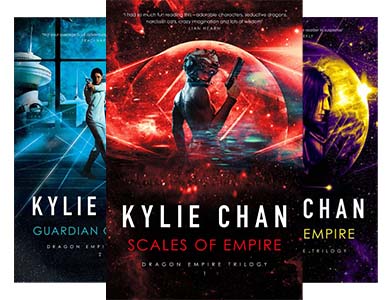 Australians have had them for a while, and they've finally been released in the US/Rest of the world! The audiobook of 'Dawn' even came out before the print/digital edition! This is extremely exciting and I hope you enjoy Jennifer Vuletic's excellent narration.
The Final 'Dark Heavens' Audiobook (US/Rest of the World)
'Black Jade' is due for release tomorrow. These readings by Cindy Kay have been so delightful, and I'm kind of sad that it will all be over. They've been selling exceptionally well overseas, and I'm truly sad to see the series end. But my patrons on my patreon are already reading new John/Emma, so the story hasn't ended there!
Sorry Australians, I have no idea what is happening with audiobooks here. I email Bolinda and don't get much in the way of replies, I'll keep asking them. This is frustrating for me too.
The Book Sizes and Formats – an Explanation
Now that you can buy my books on my website (check here!) I'm sending out more than one 'full set' of signed Dark Heavens books. And there's an unfortunate aspect of the book attributes that's annoying for everyone and something I have absolutely no control over.
Here's a full set of Dark Heavens books in all international formats: the numbers indicate which book numbers in the series are available in that format.
Mass Market (US): You will occasionally see these in Australia and other regions as well. They're the smallest size, the covers are plain matte, and the interior paper is newsprint. They're the cheapest and smallest edition of 'Dark Heavens' and all nine books are available in this format. If you bought it in Australia there's a good chance it's an (illegal) parallel import but I don't really care, thanks for buying them.
'A' Format (Australia/NZ): This is the first size that the books were released.
The first six books (Dark Heavens and Journey to Wudang) are only available in this size in Aus/NZ.
It's slightly larger than US Mass Market, and the publishers release in this format when they're not sure that they have a big seller. The earlier print runs had shiny highlights on the covers: the later print runs are either plain matte or gloss.
'Trade' Format (Australia/NZ): The two books at the bottom.
I'm skipping 'B' format to explain the whole 'Trade then B' thing.
If a publisher thinks a book will sell well, they release it in the larger 'trade' format first, then six months later in a cheaper 'B' Format (the ones directly above the trade book). The trade version is much more expensive. When 'trade' goes out of print it's reprinted in 'B' format and never printed again. The omnibus editions were printed for big box stores, didn't do much, the final trilogy was too big to put together like this, and they have disappeared.
Note that for me personally, having book 7 released in Trade was hugely exciting. Then I realized the size thing and… well I was still excited to be important enough to warrant trade release.
'B' Format (Australia/NZ/UK): Above the trade books.
So this is the format released after trade has done its six-month run. It's larger than A format, and the last three books are only available in Trade and B, there are no copies available in A format at all.
The first three books were originally released in B format in the UK, so there are some larger copies of 'Dark Heavens' floating around, but I think they're out of print and no longer available.
The last three books (Celestial Battle) are only available in Trade or this format.
The upshot of this is: the last three books will never be the same size as the first six on the shelf, unless you buy the super-cheap US Mass Market versions.
I wince when I put full sets into the box to send them to you, because I know that you want a matched set, and it doesn't exist. I can't get the US versions as I don't have a contract with the US (it's complicated) and don't have a direct relationship with them.
No, none of the publishers have plans to reformat any of them into a matched set, this would cost valuable resources to re-typeset them. They also have no plans for boxed sets, my books aren't big enough sellers to warrant that sort of attention. Maybe if we get a TV series? Here's hoping.
I've explained this at conventions and face-to-face events a few times, and every time I did, I said that I should put it onto my website. So I'll add it to the FAQ's.
Sorry, guys. But hey! $5 Patrons get new John/Emma so enjoy the shiny!
See you in March.