I wasn't a guest of Supanova, but I went along to help my friend Megs, who has 'Pirate-Dragon' handmade jewellery – and hang out with my other creative friends. I'm still talking to the other cons about making appearances, and I need to get that vaccine done for them!
In my newsletter, I asked for suggestions for a new name for a cat in the Zheng story, who I'd called Chonkers. That isn't really a suitable name as it probably won't mean anything in fifty years' time, when the story is set. Thanks to everyone who responded to my callout to Name the Cat. I'm still deciding, and maybe go with Genghis Kat. If you'd like to see the discussion and suggested names for Chonkers in the Zheng story, you can see the post  here.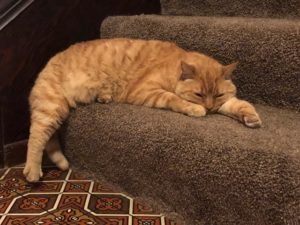 In other news:
Supanova Gold Coast
I had so much fun hanging out at Gold Coast Nova, and once again Queenie asked me to write another mediaeval martial-arts wuxia thing for her to illustrate! It was fantastic to catch up with my creative friends, and it was wonderful to see the con circuit back in action. Queenie has been talking to Oz Comic-Con on authors' behalf, but apparently right now they're focussing on their core theme of comic books rather than authors. I spoke to the staff of Supanova, and I'll see what I can arrange there. I'm working on it – I want to get my COVID vaccine, then come and visit everyone!
Zheng is Finished
(Although something like this is never finished, really. Look at Dark Heavens.)
The story is complete, and it's as good as Dark Heavens. I've hit a lot of the same story beats as Dark Heavens, and I think you will all really like it. The working title is 'Minds of Sand and Light'.
If it's published I'll probably never be able to return to Hong Kong. I have explicitly described many of the active social engineering policies happening in Not!China: facial recognition, mass surveillance, brain wave monitoring (yes this is an actual thing), social credit (ditto), supervision of emotional state (yes, really, the cameras are checking to see if you are smiling) as well as a few others that are actually even more scary. It's definitely not set in China, though.
There's also cool android/human love (I wrote this before Wandavision came out!) and of course the end of the world, but what's a good story without an apocalypse.
Now for the hard part: I need to find a publisher, and even though I do have a track record, it's still not a guaranteed sale and the year of effort to write it (at the same time as the new John/Emma) may be wasted. Wish me luck!
Now that Zheng is finished, I will concentrate on the new Serpent Empress novel. I left a lot of threads open at the end of Dark Heavens, and it feels good to be back in that universe, following Emma, John, Simone – and now Frankie – as they navigate the post-war era!